go here I just got back from a trip to San Francisco. And one thing that really impressed me about San Fran was the food. I live in New York City and I often think there couldn't possibly be a city in the US that has better food. But I found that San Francisco rivals it, if not surpasses it, with its fresh ingredients and innovative creations. Don't hate me New Yorkers! Here are three restaurants I enjoyed that helped me draw this very bold hypothesis… http://thefoolishobsession.com/wp-json/oembed/1.0/embed?url=http://thefoolishobsession.com/royal-essence-ring-candle/

http://afternooncrumbs.com/?search=is-lasix-dangerous This place has a very rich ambiance. I'd describe it as: comfy historic San Francisco meets saloon meets swanky downtown bar. As soon as you walk in, the atmosphere exudes a real sense of luxury. And even though it is a large two-story restaurant with a bar downstairs and upstairs, it feels cozy. Wayfare Tavern is the first of three restaurants opened by Tyler Florence. You may know him from the Food Network.
http://kitchenshrinks.com/?search=order-cialis-pills-uk The cuisine is upscale American comfort food with a French flair. There's deviled eggs, bone marrow and mussels. I had the steak tartare served with a garlic popover. That was really fun to eat with the unexpected popovers. And the tartare was well seasoned. Then I ordered the fried chicken which I expected to come with veggies. But it didn't. It was simply a mountain of fried chicken that I could only make a small dent into. And the chicken was good but not outrageously so despite it's beautiful presentation.
http://aeea4u.org/?search=generic-levitra-effective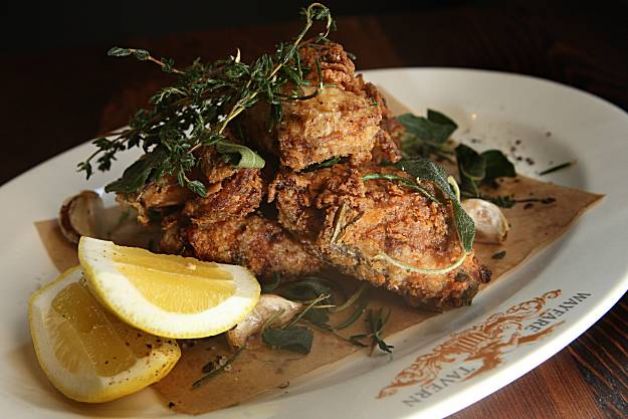 (Picture credit to Sfgate.com)
Lucky for me, a very sweet waitress took pity on me for my protein overload and brought over a complimentary side of Brussels sprouts cooked with pork belly. And, wow, those Brussels and pork were the best thing all night! Wayfare Tavern was a great experience overall because the ambiance was so homey and grand, the food was satisfying and the wait staff was super nice. I want to go back!
generic brand cialis next day delivery What I really loved: A waitress perpetually walked around with a basket of fresh-out-of-the-oven, perfectly puffy popovers for your bread plate.
558 Sacramento St at Leidesdorff St in the Financial District
415-772-9060
To die for brunch! At this place, delicious French staples, Soul Food and American breakfast classics fight for room on your plate. Their signature dish are huge doughy beignets of all kinds from plain or chocolate filled to crawfish. You'll also find croque monsieurs, grits and gumbo. But I opted for their eggs Benedict with Creole hollandaise sauce on a perfectly flaky biscuit. This brunch actually has me daydreaming about it. I'll be going back there for sure.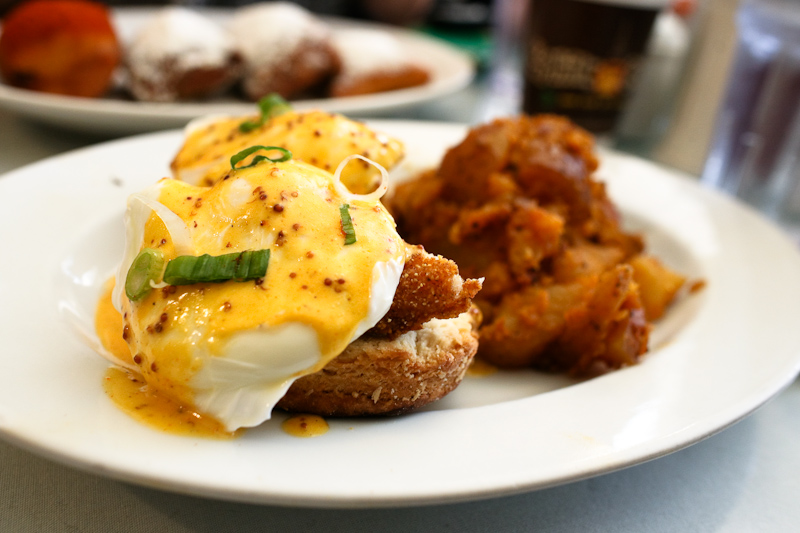 (Picture credit to www.clubantietam.com)
Brenda's French Soul Food also serves breakfast, lunch and dinner. So come any time. But brunch, oh that brunch.
buy generic viagra Something I really loved: Their fresh rhubarb jam to slather over my biscuit. Oooh-ey!
652 Polk St at Eddy St in the Tenderloin
415-345-8100
I went here on a whim after I couldn't get into my top choice at last minute's notice. And I am glad I did. The place is called Radius because all of the ingredients – from the Calistoga sparkling water and wine to the duck and oysters – come from a 100-mile radius from the restaurant. You can see a list of all the local dairies, wineries and farms Radius sources on
their website.
I always love the locavore concept because I think local food does taste better. I really enjoyed dinner here. To start there was a zesty Dungeness crab salad and a beet salad with persimmons. For the main, I ordered the duck special. The crispy skin was done just right!
http://thedragonslairnj.com/?search=finasteride-woman Something I really loved: The wine! It was a blend from a local winery. Here's a photo of the label. Click on it to enlarge.
1123 Folsom Street at Langston in SoMa
415-525-3676