here Hello there! Well, things are bubbling over here for me and Travel with Kate. And I wanted to share the exciting news! From Expedia to TripAdvisor to USA Today and 10Best the Travel with Kate online presence is spreading!
get link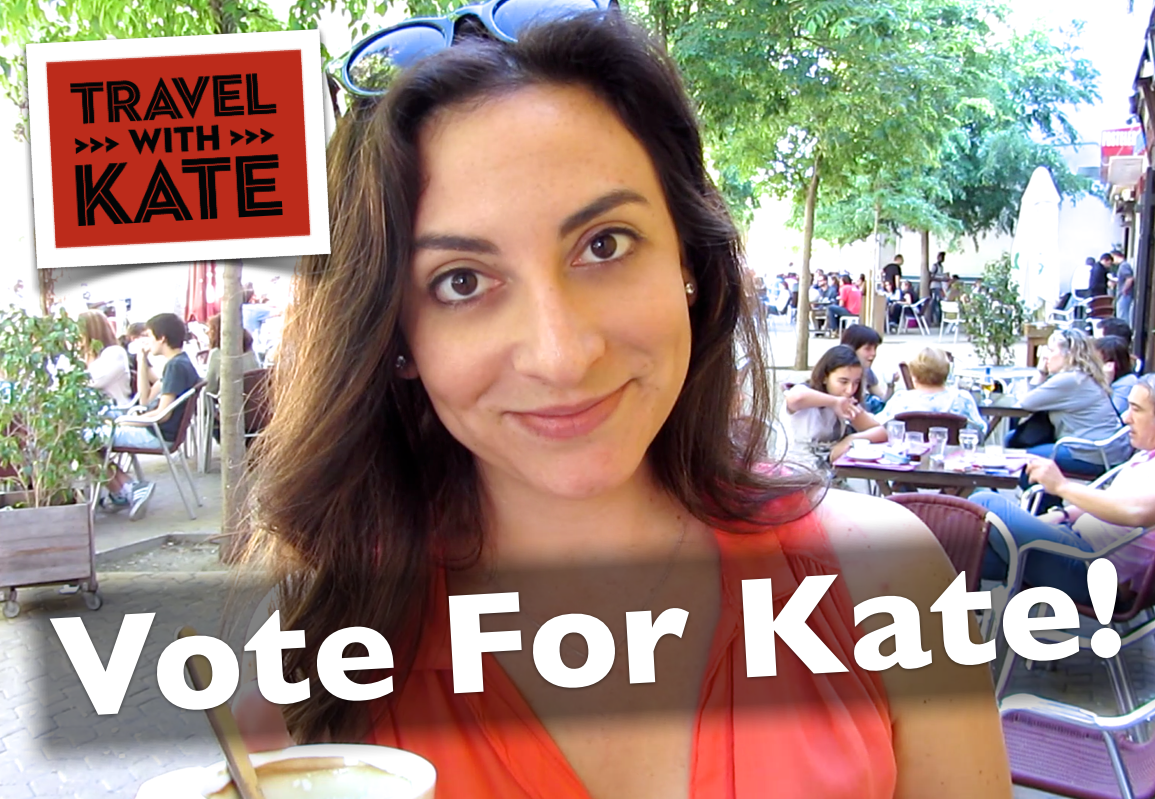 see url First, USA Today and 10 Best nominated me for a people's choice award as one of the top ten video travel bloggers online. To explain my category they wrote:
viagra wonder drug ethical responsibility in nursing "A video log, or vlog, may be one of the best ways to sample a destination before you see it. The world's top travel videographers do it with expertly-shot footage and witty narrative. Their audience turns to them for more than breathtaking landscapes or adrenaline-spiking activities. These multimedia artists also translate the culture and traditions of an area so you can have a better trip." 
atlantic drug viagra products I could not agree more with this explanation of what my fellow travel bloggers and I do. It is a true honor to be on this list of 20 nominees – many of whom are my friends and sources of inspiration. And there are many more left off the list that should also get recognition. I'm totally humbled by all this.
viagra canada drugs Please come vote for me!! Voting will go until July 21st. All you have to do is follow the "Vote Here" link below. Find the picture of me on the bottom right. Click it. And then hit the vote button on the next page. You don't even have to give your email.
before then buy viagra pills canadian drugstore pfizer viagra samples In Expedia news…
viagra recreational drug I have some new content out that you should know about. On the Expedia Viewfinder blog I published three articles last month. One is an expose on the top trending vegan restaurants in Los Angeles. In LA, meat-eaters make the pilgrimage to these vegan establishments because, well, the food is that good! Come check out the article here.
http://oaklandscottishrite.org/?search=viagra-drug-group-discussion Also on Expedia Viewfinder is my write-up about a trip to Hanalei Bay, Kauai. It reveals where to eat and how to make the most of your stay by taking advantages of all the conveniences in town. Read it here.
best buy pfizer viagra in uk In my on-going series for Expedia and Travel with Kate I posted about my Storybook trip to Spain. Definitely come take a look at that. It describes how I came to be a travel blogger and on-camera producer. And coming soon is my Storybook, Travel with Kate episode all about the passionate world of Flamenco in Southern, Spain.
And finally, if you don't know what Expedia Viewfinder is – it's a blog on Expedia.com!! I am one of a handful of travel bloggers that write for the platform regularly. And it just had its one-year anniversary! Here's more about it with highlights from the last year.
source site Ok! If that wasn't enough here is more!
Last month, my latest two videos for TripAdvisor came out. They are part of a series that I have created targeting businesses listed on TripAdvisor. In the series I hit the pavement asking the public about their travels preferences.
The pilot episode asked travelers what was their best experience in a hotel. Episode #2 is all about housekeeping. As hotels look for creative ways to lower costs they want to know how people might feel if they cut back on daily housekeeping services during a hotel stay. See what people said here.
And finally, episode #3 is about room service. Would travelers be upset if they could no longer order form the hotel kitchen to their room? Find out here.
lanoxin drug contraindications with viagra On Travel with Kate…
More videos and written pieces from Sevilla, Spain and Los Angeles will continue to roll out over the next few weeks. Make sure to be caught up on all the fun videos from my recent trip to Spain. And stay tuned as more go live.
Alright. That's it for now. Happy Fourth of July Everyone!!